If you landed here through social media or search engine either for the searched term, "How can I create an online store with WooCommerce or WordPress", "How to start an online store", then you are at the right page to get (satisfying) answers to your query.
In this post, we will be guiding you step-by-step on how to create an online store. We will be giving you brief tips on how to promote your online store.
In this era of entrepreneurship, people are waking up each day with different business ideas. Among these ideas are dropshipping, selling your own product online and so on. With these business ideas in mind, the need to start an online store is not optional but a "must".
If you want to start an online store, which is an eCommerce website, then WooCommerce is the best and affordable choice for you.
But the first question you may be trying to find the answer to is: Why do should I start an online store with WooCommerce?
Let us briefly answer this question with some points.
WooCommerce is an eCommerce platform built on WordPress. It can be installed using a WordPress plugin or better still, customize it directly from your web hosting providers such as Bluehost, Hostgator, A2Hosting, Siteground, Namecheap and any of your chosen providers.
WordPress powers over 28% of all websites in the world. This shows that to start an online store with WooCommerce is a brilliant decision because millions of entrepreneurs like you have been using this wonderful eCommerce platform but yet, they have never regretted it.
Do you know why?
• Because unlike other online stores, WooCommerce is easily customizable. You don't need to be proficient in any programming or be tech-savvy to the core.
• It's SEO friendly. You don't need to get fart off your butts before you position your products to potential buyers on search engines.
• Sleek and responsive design. There are thousands of themes related to your products that you can easily install and customize.
• You can do and undo. That is, you will have authority over your website because you are going to host it yourself.
• You don't need to stress yourself over the payment gateway. There are many plugins you can easily install for that.
• You can track and secure orders. This will build more trust and reputation for your eCommerce business.
• It is very professional and of course, a great choice for both beginners and experts.
• And many other benefits which you will only witness if you choose to start an online store on WooCommerce.
With these points in your mind, we are sure you will agree with us that WooCommerce is the best platform to launch your product online.
If this is so, let proceed to the requirement to start an online store with WooCommerce.
 How to Start an Online Store – Requirements
Below are the core requirements needed.
1. Domain and Hosting
2. SSL Certificate
3. Premium Theme
4. Premium Plugins
5. Contents (for pages, products' titles and descriptions)
6. Images (for your products and logo)
Since you have known a few reasons and requirements to start an online store on WooCommerce, let begin with how you can get your products online.
How to Start an Online Store With WooCommerce – Procedures
1. Get good web hosting and domain name
This is the first thing you need if you are intending to start an online store with WooCommerce. But what do we mean by "web hosting" and "domain name"?
Let's explain them
(a) What is Web Hosting?
Web hosting houses everything you do on your website, ranging from images, texts, and other files. It also handles the amount of traffic (visitors) you have on your website and any other information input by them.
(b) What is Domain Name?
A domain name is a name given to any website on the internet. It is your website's unique address on the web that gives the customers an exact idea of what to search to get to your website. The name of your store is followed by either a TLD or ccTLD.
What is TLD and ccTLD?
TLD means "Top Level Domain" such as .com or .net. These domains target the global market, that is over the world.
Most websites on the web make use of ".com" and we are sure you are aware of that already. ccTLD means "Country Code Top Level Domain" such as .co.uk, .co.in, .com.ng, .co.sg, .ng etc.
These domains target a specific country. Although they can as well be accessed in any place in the world.
Note: .co.uk is targeting the United Kingdom, .co.in is targeting India, .com.ng is targeting Nigeria while .co.sg is targeting Singapore.
You can choose any of your choices depending on either you are targeting global visitors just like some online shopping sites (Amazon, eBay, Etsy) or you are targeting consumers within your geographical location.
There are tons of web hosting and domain registrars to choose from, but most web developers will go for Bluehost. We also recommend Bluehost for anyone wishing to start an online store with Woocommerce.
They provide affordable web hosting, free domain for the first year, have good customer service, and are perfect for both beginners and enterprises alike.
If Bluehost seem too expensive or higher than your budget, you can go for Namecheap. Namecheap has hosting plans that are cheaper than that of Bluehost, but you won't get a free domain.
There is another option;
WPEngine! Though expensive as compared to Bluehost which is free, WPEngine offers a dedicated web hosting service which means; you won't be given a domain name. Unlike Bluehost, you will have to purchase your domain name from other platforms.
So what's the point here? Basically, there are two basic ways to get a domain name and web hosting. Either you go for dedicated hosting or shared hosting. Whichever you think is suitable for starting your online store with Woocommerce, you are at liberty to choose.
2.  Install WordPress 
So now, you are gradually at the junction to create your online store with Woocommerce. If still remember that Woocommerce is a WordPress plugin so it time we set up WordPress.
There are several ways to install WordPress either by Softaculous, FTP, Localhost, etc. But for this post, we will be using Bluehost.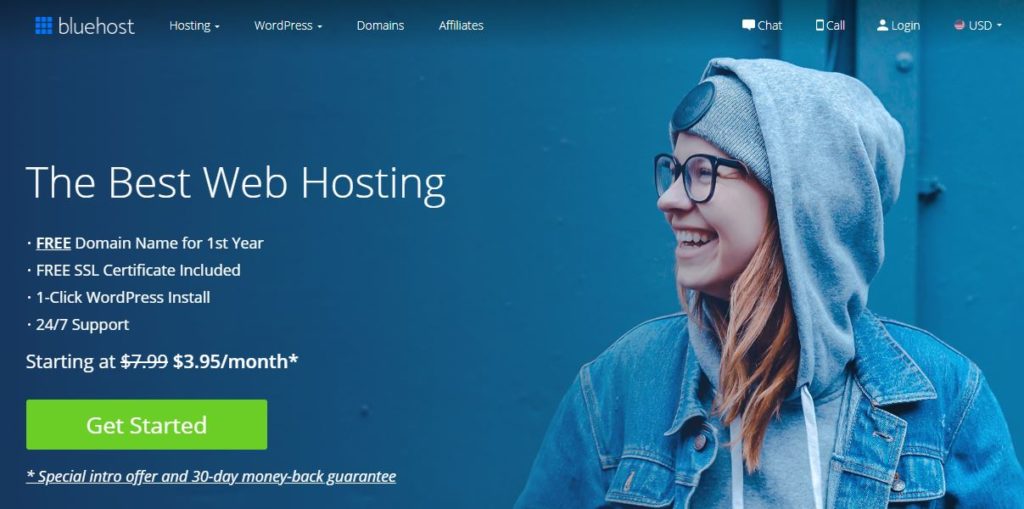 After creating your profile on Bluehost you can log in and start utilizing all the features you opted for. One of the unique features of Bluehost is that it comes with a One-click installer for WordPress.
Instead of messing around with files and databases, you can install WordPress and set up your website in just a matter of a few minutes.
Steps to Take to Start Your Online Store
• Choose your preferred hosting page. We suggest the basic plan. It offers plenty of speed, performance, functionality, and storage for your first website. You can upgrade to a more advanced hosting plan as your website grows. You will be prompted to choose a domain name, choose your preferred domain.
• On the next page that appears, enter your personal information and credit card details. And make your payment.
• There is a green button that says 'install' on Bluehost's cPanel, click on the button to begin the process.
• Although not necessary, you will be asked if you want to use your website with or without "www." in front of your website name (www.YourWebsite.com or YourWebsite.com). If you can't decide you can leave it as is. It can be easily changed afterwards.
• The details for the WordPress installation like email ID, username and password can be set. Read and accept all the necessary conditions under a license agreement. Then click install!
• Once the installation is complete you will see a clear message on top saying "Your Install is Complete!" and a button saying "View Credentials"
• By clicking on that button you will be sent to a page where you will be able to find your newly installed WordPress login credentials.
3. Get security by adding SSL to your site
SSL stands for Secure Sockets Layer. In short, it is the standard technology for keeping an internet connection secure and safeguarding any sensitive data that is being sent between two systems, preventing criminals from reading and modifying any information transferred, including potential personal details.
URL which appears as "https://" (and often will display a green lock symbol too). SSL is fairly easy to set up with either Bluehost or WP Engine as both hosts offer it as a premium add-on during checkout when signing for hosting.
SSL is a must for anyone who wants to start an online store with WooCommerce or any other eCommerce powered platform because you are going to be dealing with customers' information especially credit card details.
4. Installing WooCommerce
• Simply log into your WordPress dashboard.
• In the dashboard, you will see "Plugins" under the "Appearance" click on the Plugins item, then click on the Add New option. Search for "WooCommerce" and the WooCommerce plugin should show up as the first result.
• Click the Install Now button. This will automatically download and install the plugin files and should only take a minute.
• Once the plugin is installed you need to click the link for Activate Plugin to start using WooCommerce. (You can use the free or premium version).
• Next, you should be prompted to begin setup. It is much easy to follow along so click on the Let's Go button to get started.
• Setup will first ask if you want WooCommerce to automatically create your key pages for you. These pages include your main shop, shopping cart, checkout, and a default customer account page. You definitely want all these pages, so click Continue.
• The next step is to set up your store location, currency format, and units of measure. This is important so your customers know how much you are charging and what they are getting for their money. So make your selections and then click Continue.
• When WooCommerce is activated for the first time, the WooCommerce Setup Wizard helps you set up your shop.
• Select "Let's go!" to get started. Or select "Not Right Now" if you prefer to manually set up your online shop.
• Set up your store location.
• Now choose your shipping address.
• Your next screen is your Payments setup. If you don't already have a way to accept credit cards, WooCommerce makes it easy to get started with two top-rated online payment services, Stripe and PayPal, by clicking the appropriate box or boxes (yes, you can use both) on this screen.
• After completing the Payments screen, click Continue, which takes you to the 'Shipping' setup screen.
You are now through with your WooCommerce installation. After the steps above you may begin installing your theme, products info, additional plugins.
5. Choosing a theme for your online store
After the WooCommerce plugin activation, you need to begin with customization which starts with the selection of theme.
We don't recommend the use of free themes either downloaded on wordpress.org or gotten from somewhere else. Because free themes will lack some vital functionalities which you need.
Also, some people use nulled or cracked themes which is too bad. Using a nulled theme can get your website hacked by those civilized criminals on the web. We advise you to buy your own theme or you can hire a theme developer to develop a custom theme for your online store on WooCommerce.
Where to buy a good theme for your online store?
There are many types of CMS themes on eCommerce including that of Shopify, HTML templates, etc. But to easily get a good theme for your online store, use this method below.
Go to Google.com and search for "WooCommerce Theme for (Your Product Niche)". Your product niche like clothing, fashion, food, groceries, books, etc.
For example, if we want to be selling shoes, we will search for "Woocommerce Theme for Shoes"
We recommend eCommerce themes from Themeforest for anyone looking to have a nice theme that can suit different online stores. When you visit themeforest.net, type the word 'eCommerce theme' to display a list of eCommerce themes.
6. Installing and customizing your theme
You are getting closer to launch your online store on WooCommerce. After downloading your theme, go to your admin dashboard and let install the theme right away!
• In the dashboard, you will see "Appearance", hover on it, Submenus like the theme, etc will appear.
• Click on theme >>> Add New >>> Upload file.
• Select the theme file you just downloaded and click on Install.
• Wait for a few minutes and the installation will be complete.
• Finally "Activate" it!
Now, let start customizing:
To customize a WordPress or WooCommerce theme is not a big deal as you may just have to replace the dummy content with yours.
When you uploaded your theme, there is a layout or design that you can easily re-edit to suit your taste. What we mean is that the theme developers usually make it easier for users to change anything in the theme.
Here are the important parts you need to customize
(a) Site name, tagline, and logo
This can easily be customized if you go follow the steps below.
• Go to your dashboard >>> Appearance >>> Theme >>>> Settings
• In the Theme settings, you can change what you want but depends on the theme.
• Finally, click on "Publish"
(b) The homepage setup
This is very important, if you don't do this, you won't get your desired design.
• Go to your admin panel (dashboard)
• Create two new blank pages with a title as 'Home' and 'Blog', publish the pages as it is (blank)
• Go to your dashboard again
• Go to Settings >> Reading
• Under Reading settings, choose "static page"
• A dropdown will appear, the first one is "Homepage", under it, select the blank page you have created with 'home' as title and do the same thing to the "posts page".
• Click on "save changes"
(c) The slider
Any multipurpose theme comes with an option for a slider. You can change the slider images by going to your dashboard, locate the slider text (it may be Slider Revolution, Unison, etc), change the images and text to yours and save it.
(d) The footer
• Go to your dashboard
• Hover on "Appearance" >>> "Widget"
• Choose the widget you want at the footer (3 is recommended such as "Pages", "Email Newsletter Subscribers", "Collection".)
• Then SAVE!
7. Adding products
This is the real big deal and it's the reason you are creating the online store. But you don't need to think much about it. It is so simple, just follow the steps below.
• Go to your dashboard
• Click on Products >>> Add New
• If you get to the page, you will know the next step as it is self-explanatory.
• But make sure you use an attractive image as your "Featured Image" because it will appear as the image (it will be visible to the customers).
• Write good title, description and make sure you use your keywords in them. Don't forget the keywords in the images' ALT title.
• Put the price etc.
• Preview it, if it is okay then "Publish"
8. Start your SEO, marketing and add new products!
After passing the steps in #1 to #7, the next thing is to start optimizing your new online store for SEO in other to gain more presence and traffic from top search engines like Google.
Marketing of all types (Social media, content, Email, Solo Ads, etc.) is very important if you need serious traffic, customers and sales.
Then if you have new products, add them and repeat the processes as explained above.
Wrapping Up
So far, you have learned how to start an online store with WooCommerce or WordPress without spending extra on website designers.
With this, you are done setting up your online store with WooCommerce. So if you are looking to start an online store with WooCommerce we suggest you follow this guide.
Don't hesitate to hire us if you are still confused or the processes seem too tedious/technical.